Plasma & Liner Software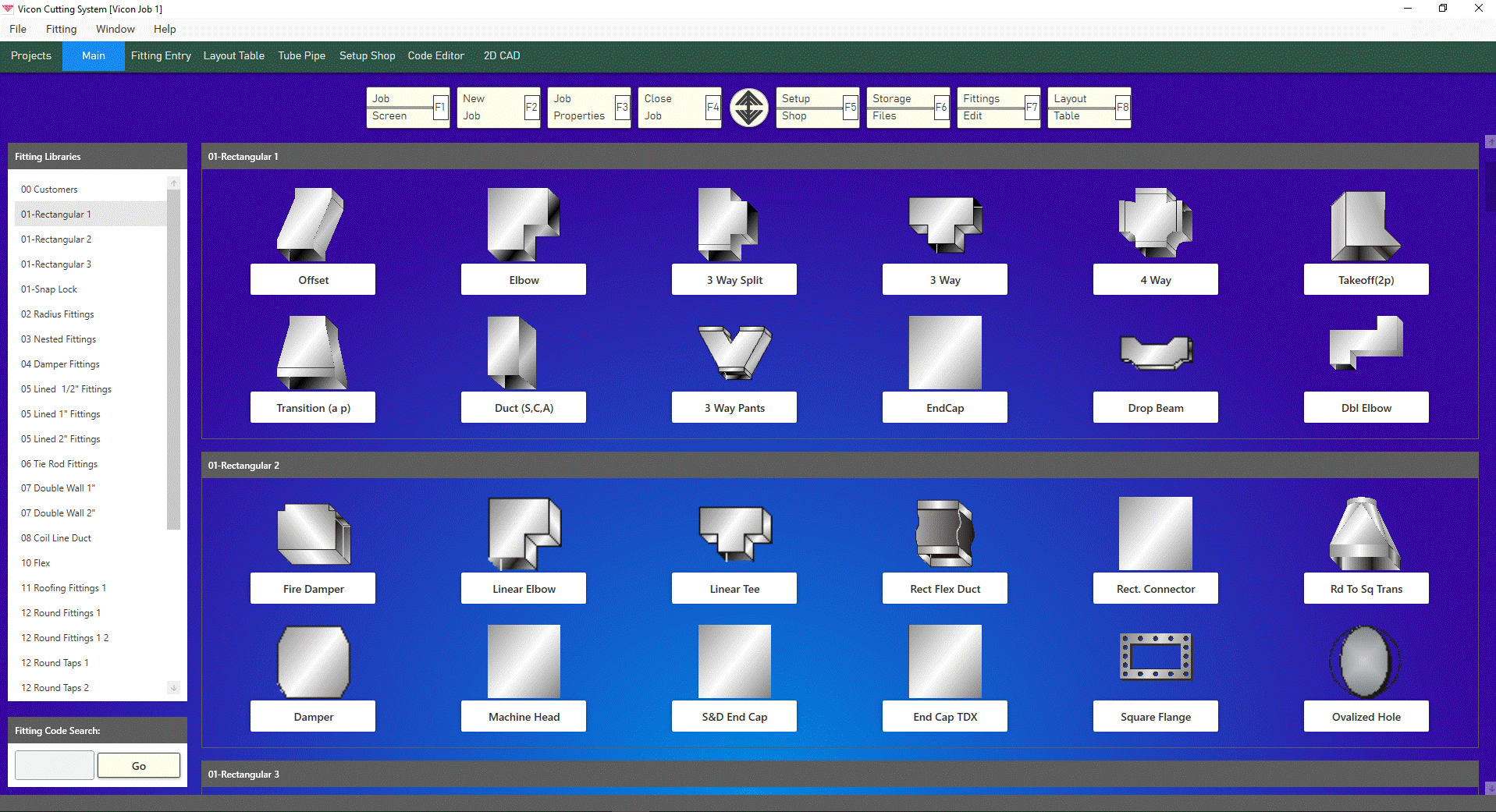 Vicon Main Screen
Vicon HVAC Software fits into any shop large or small. This user-friendly, user-oriented program is extremely customizable. Time is saved from the first day you start using it because the program is preloaded with all the standards and settings that are needed to produce duct work.
Software support is just a phone call away for as long as you own the machine.
---
Vicon Entry Screen
"Enter, Nest, Cut"
It is that fast and easy!
Whether you are an experienced ticketer or are new at it, you will be up and running in no time! The Vicon Entry Screens are extremely obvious. In just a few short minutes you will feel comfortable entering the fittings that you need.
---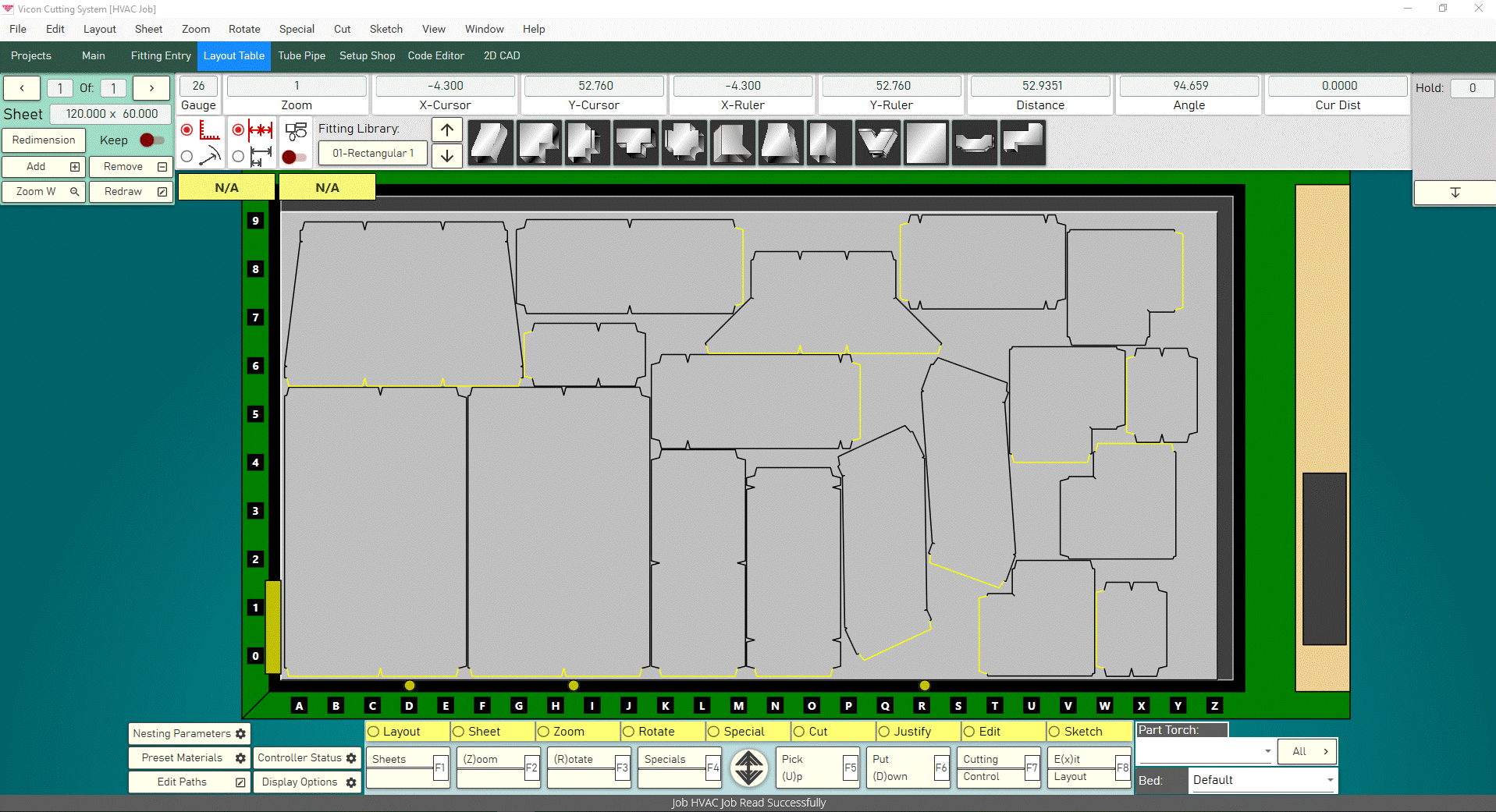 Vicon Nesting Screen
The Vicon Nesting program quickly nests your ducts, fittings and liner to the appropriate machines in the minimum time possible, saving you material, time and money.
When you have a Vicon plasma machine, liner machine, coil line and even a Vicon vane maker or slip & drive cut to length line, the Vicon program seamlessly sends the work to the appropriate machines without any intervention or worry. No down loading or syncing required! The software knows the shop and the equipment!
---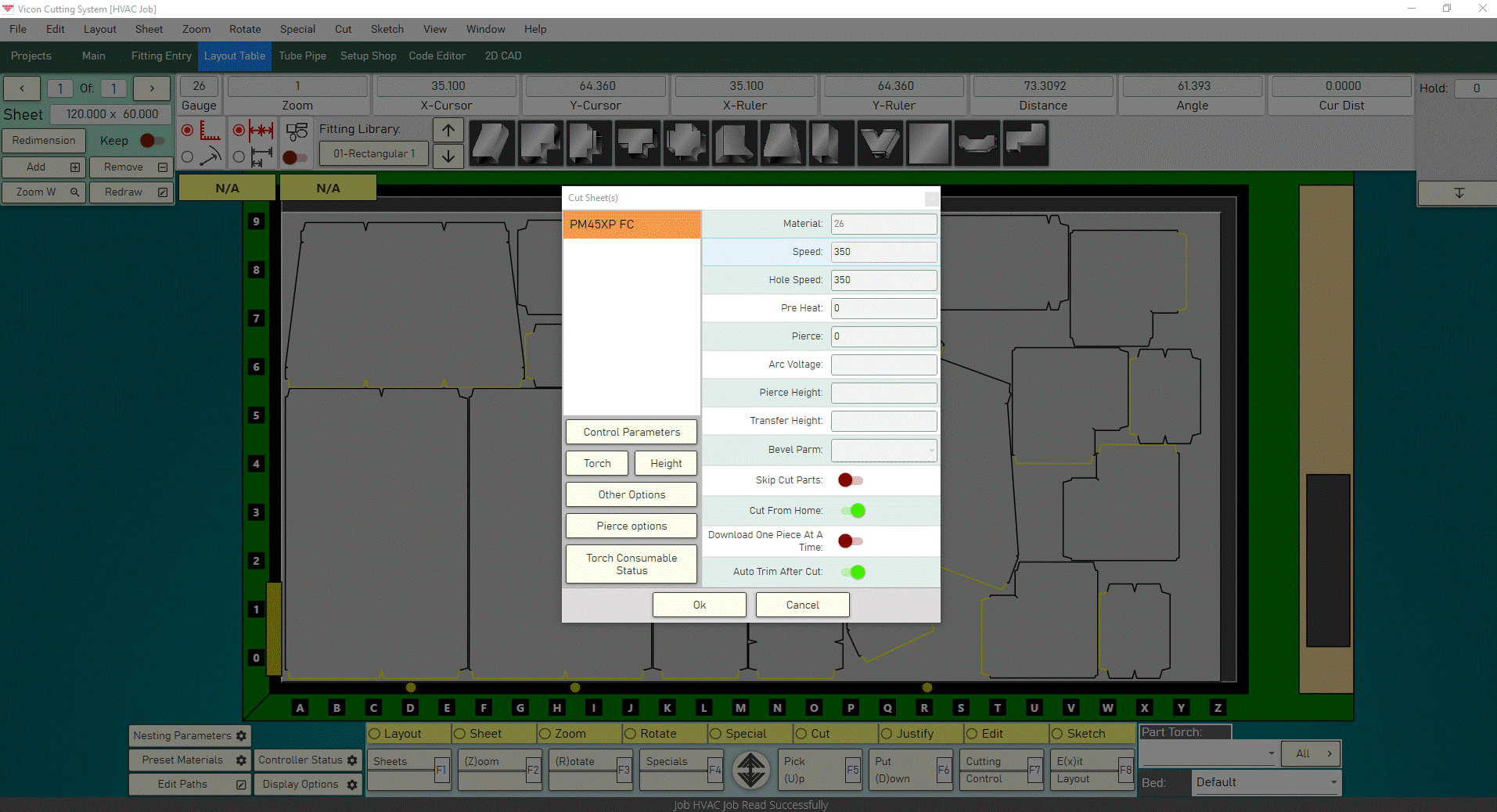 Vicon Cut Screen
At the Vicon plasma, liner cutting and coil line machines the proper cutting parameters are predetermined for you. You don't have to know the settings required to cut. Just click OK and the machines do the rest.
---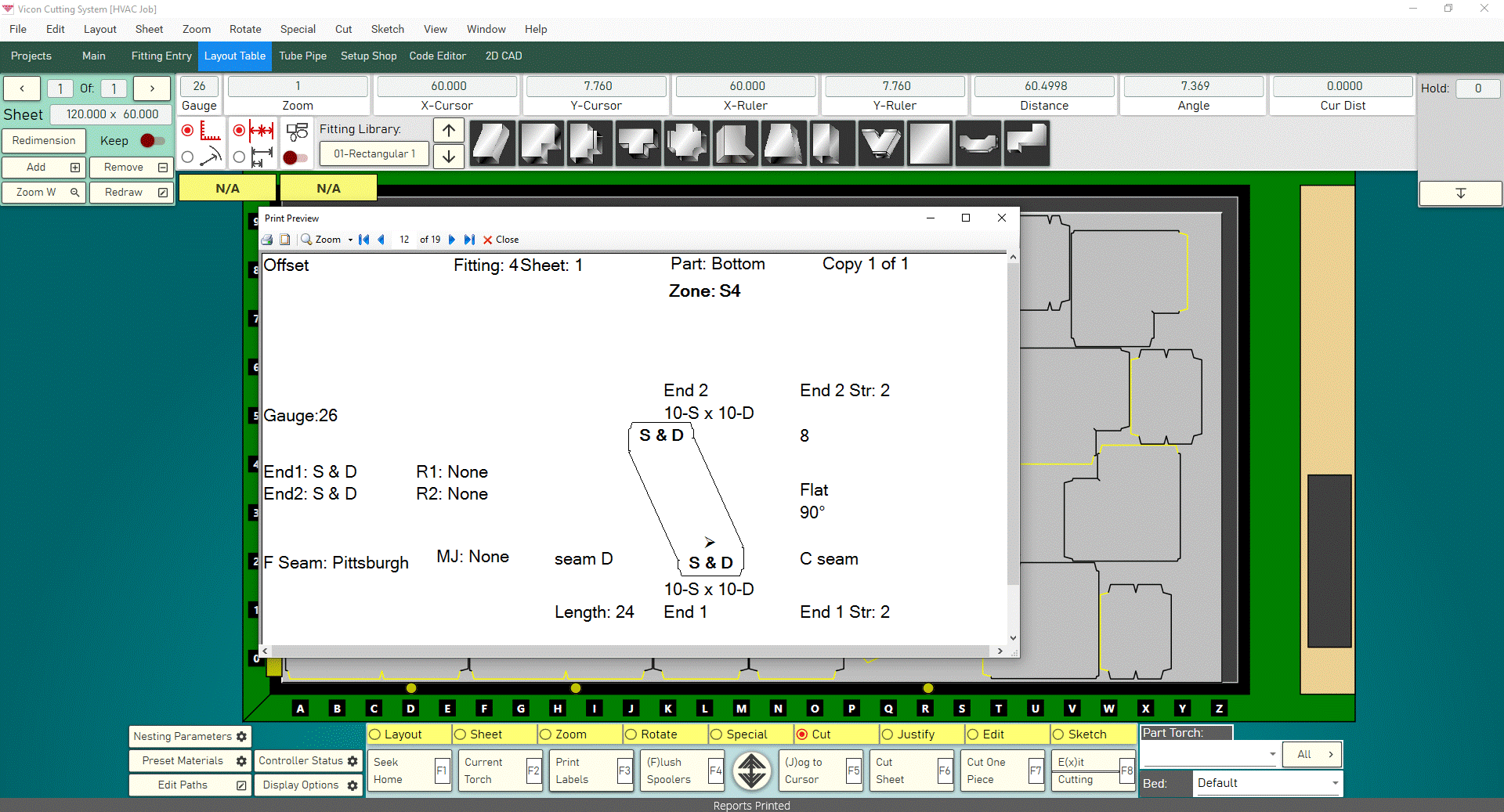 Vicon Label Screen
Now that you see how easy the Vicon system is to "Enter, Nest, Cut", the Vicon system also makes it easy to assemble your fittings with these highly detailed fitting and part labels.
Everything from seams to end connections to material and lining selections are detailed on the Vicon label. Even the direction of bending and kinking are shown. The assemblers of the fittings are also aided with the lettering of the seams and the descriptions of the ends to help in choosing how to assemble even the most difficult of changing double offsets and transitions.
---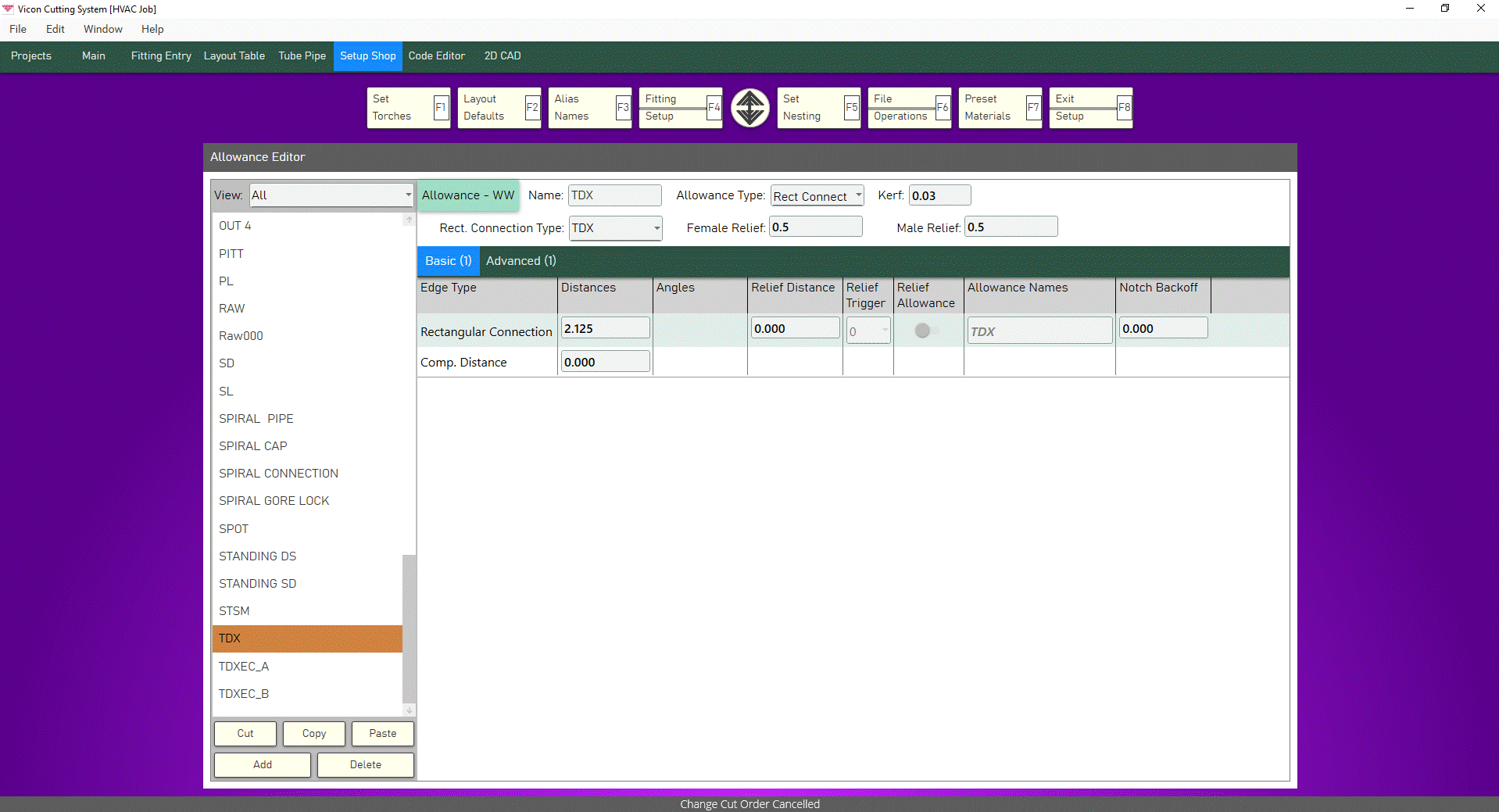 Vicon Set Up Shop Screen
You will be hard pressed to find a shop setting that is not included in the Vicon set up shop program. Even if you do need to add a seam or connection it is fast and simple.
---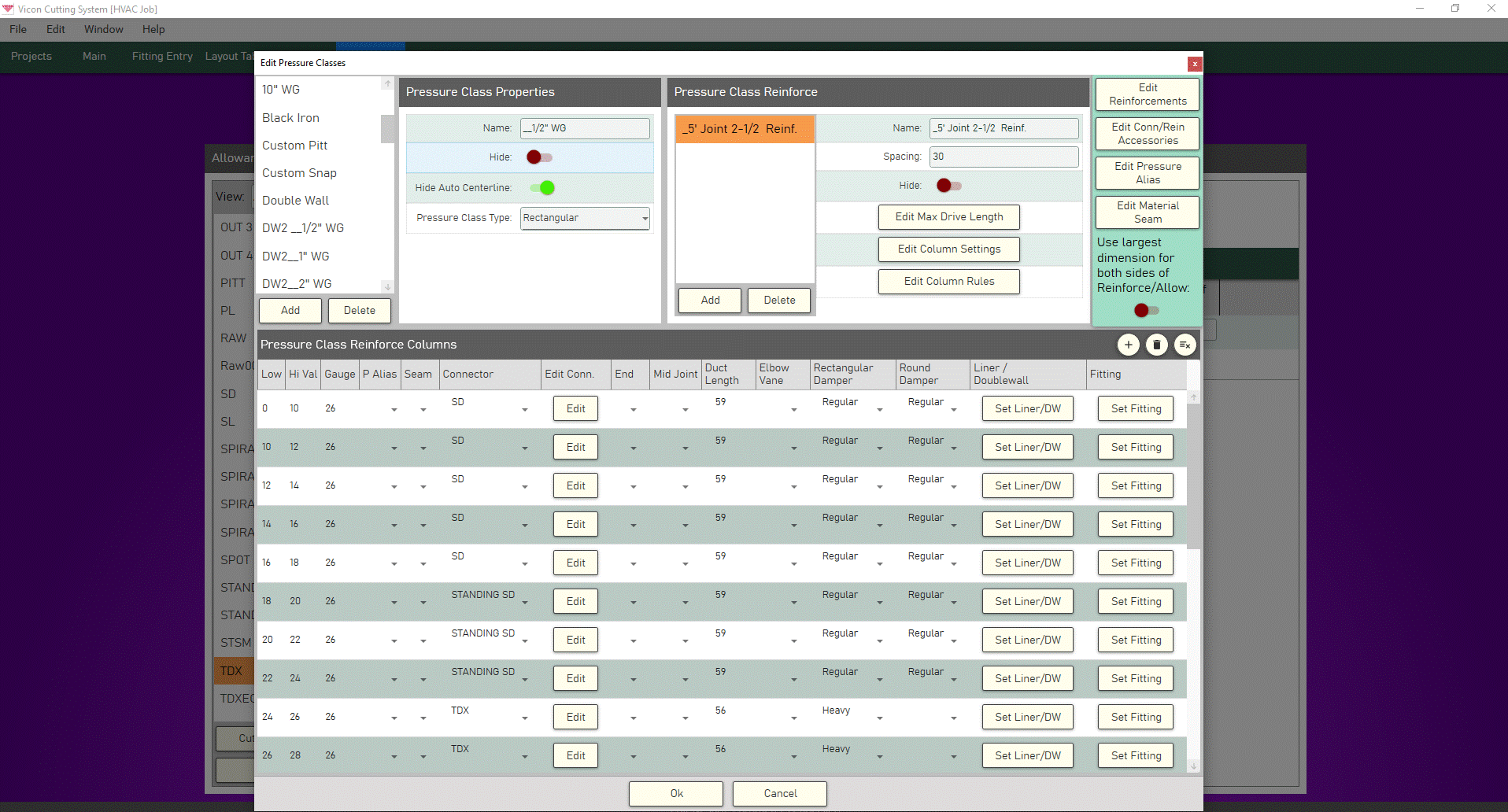 Vicon Pressure Classes Screen
The Vicon HVAC program comes preloaded with SMACNA recommendations for fabrication as interpreted. The Vicon pressure classes automatically choose material gauge, seams, connections and reinforcements to make your fittings and duct work as economical as possible. Depending on your equipment and methods and specifications, you may choose to add your own pressure class settings.
---
Value Added Software
Complete the automation of your business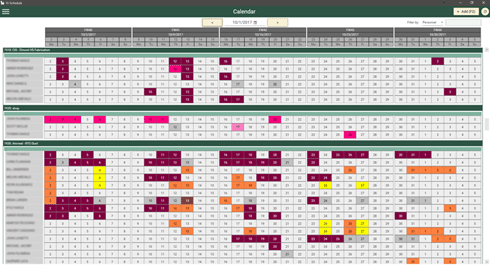 ViSchedule Screen
ViCost & Scheduling System Software
Vicon Job Costing tracks material costs including metal, liner, and accessory costs. Labor costs are determined by hourly wages through the scheduling section. Overhead costs per employee and per job are also taken into account. Essentially, the ViCost & Scheduling System will help schedule and report to you the entire cost to produce and even install a job.
---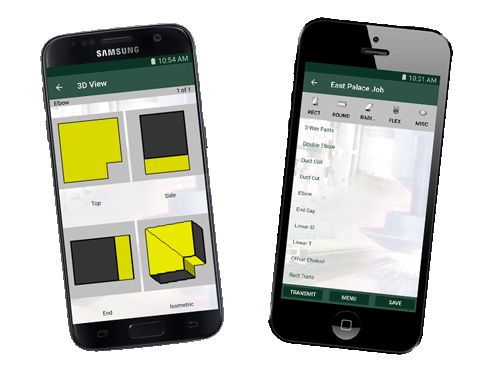 ViCall Screens
ViCall Call-in Mobile App
ViCall is a software system that coordinates the field personnel with the shop ticketing office. The field personnel call in fittings that are needed by simply filling out the ViCall fitting screen on their mobile phone. Once the fittings are transmitted, the ticketing office will receive an email or text message alerting them that there are items needed in the field. ViCall allows fittings and accessories to be called in streamlining communication between the shop and the field. ViCall is compatible with iPhone and Android phones.
---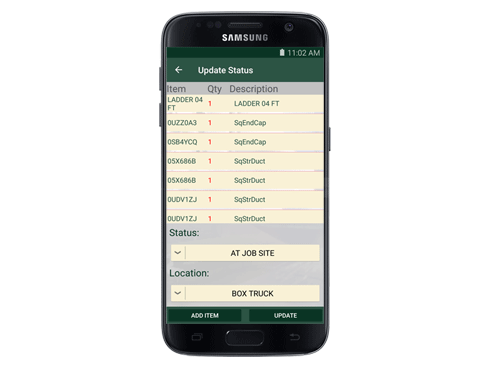 ViBar Screen
ViBar Mobile App
ViBar is a software system that tracks fittings, tools, and accessories from a job's start to its completion. Once a job's fittings have been cut and are ready to be shipped, the warehouseman stages and bar scans them along with any tools and accessories, updating the ViBar system that they have been staged for shipping. A manifest is printed that includes descriptions and barcodes for each item on the truck. Scanning at the job site is performed using either an iPhone or Android phone, allowing the office personnel to see the location of all the items of the job.
---


Plasma Automation and Vicon Machinery are dedicated to supplying fabricators and manufacturers with highly productive machinery. Our programming staff is also experienced and dedicated to providing you with state of the art programming.
You can rest assured that when you choose a Vicon product you made a selection that has been; designed, programmed, built and installed by One Source providing One Solution giving you Complete Automation for your company.